Garden Center POS built for Nurseries, Greenhouses, Florists & Landscapers!
Custom POS Software - Mobile - Rugged - Simple
Special Features built for Garden Centers - Custom POS systems for Nurseries, Greenhouses, Florist & Landscaping Businesses.
What do you look for in the best garden center POS systems? When it comes to choosing the best garden center POS, look no further than Rapid Garden POS. We offer custom-built solutions for the green industry, surpassing the limitations of generic, off-the-shelf POS. We understand that your business faces unique challenges, which is why we designed Rapid Garden POS to directly tackle those specific needs. We also prioritize flexibility and scalability, allowing you to adapt and grow your garden center without limitations. As your business evolves, our pos systems can easily accommodate changes and support your expanding requirements.
Rugged & Mobile POS System Hardware
Our green industry pos system empowers Lawn and Garden Centers to support customers and manage inventory anywhere, be it stores, yards, greenhouses, warehouses, or grow sites. Our portable tools enable you to handle transactions on the move, ensuring flexibility and convenience. With durable hardware and seamless connectivity, you can rely on our system in challenging environments. It adapts to your changing business needs, accommodating growth and diversification. We offer a world-class warranty and replacement program for added peace of mind. Elevate your business with our green industry pos system, delivering exceptional support and efficient inventory management wherever you go.
Green Stock Inventory Management
The best garden center pos systems must have comprehensive inventory management to enhance your operations. Rapid Garden POS supports multiple common, botanical and Spanish names for single items. Not only bulk purchases sold in smaller increments, but also flats being mixed and matched, individual items being combined for planters and gift baskets, and tracking dumps/dead count, our solution makes inventory management seamless. Not to mention, generate and print barcodes in multiple formats (labels, tree tags, planter spikes) right from our robust inventory management system, or simply utilize manufacturer-provided barcodes.
All About the Garden Customer
Simplify customer management by creating distinct classifications, enabling targeted email marketing campaigns to one or multiple customer classes. Build customized garden center loyalty programs for each customer class and effortlessly track valuable customer information, purchase patterns, and preferences. During your busiest seasons, our POS helps you speed customers through checkout, ensuring a seamless shopping experience. Rest assured that their data is protected with our PCI/DSS compliant technology, prioritizing the security of their sensitive information. Maximize customer satisfaction and streamline your operations with our comprehensive garden center POS software.
Nursery Growing & Production
For nursery or garden centers with multiple grow or production sites, efficient management of orders, fulfillment, materials, and labor is crucial to support growing activities. Our point of sale system offers a comprehensive solution that streamlines your operations. With powerful inventory management tools, you can effectively organize nursery crops and track sales in your production department. From tracking materials, including growing and existing sellable stock, our point of sale system simplifies the complexities of running a nursery or garden center. Experience enhanced productivity and seamless operations with our integrated point of sale solution.
POS Pricing & Promotions
In the realm of garden centers, diverse customer types like distributors, landscapers, resellers, installers, and retail customers bring unique pricing and promotion arrangements. Rapid's garden center POS software effortlessly manages these complexities. It facilitates multi-level pricing, automatically applying the appropriate rates and promotions based on identified customer profiles. This streamlined approach ensures accurate and efficient transactions, catering to the specific requirements of each customer category. With Rapid's garden center POS software, you can confidently serve a wide range of customers, optimizing pricing strategies and enhancing overall customer satisfaction.
Landscaping & Services
Rapid combines capabilities of garden center pos systems and landscaping so you can efficiently manage a plethora of services. From delivery to installation, recycling, quoting and fulfillment services, our point of sale system seamlessly manages all aspects of your service work. With our robust inventory management, you can effortlessly track and control items & labor, ensuring optimal resource allocation and cost management. Generate accurate estimates, invoice customers, and even accept remote payments. Additionally, our system caters not only to individual customers but also empowers you to efficiently serve your wholesale customers, enhancing your business reach and facilitating seamless transactions.
Harness the Power of Sales History
Rapid's point of sale solution helps you gain valuable insights into your business and track sales effortlessly. Equally access a comprehensive sales history that allows you to analyze trends, monitor performance, and make data-driven decisions. In addition, we can help your garden center optimize inventory levels and drive profitability right through the back office.
Accelerate Sales with Speedy Checkout
Through the busy spring sales season, speedy checkout is one of the key features garden centers need. Consequently, our garden center pos software enables you to expedite transactions, minimize waiting times, and ensure a seamless and efficient checkout process, all while simultaneously  utilizing tools that integrate with your inventory management system for real-time updates.
Simplify Bookkeeping with Accounting Integrations
Simplify your financial management with our seamless accounting integration to top platforms like Quickbooks, Sage, and Microsoft Dynamics. Consequently, stay on top of your bookkeeping, tax preparation, and financial reporting effortlessly. Leverage advanced features that provide insights into your business finance and as a result, make informed business decisions. Comparatively, our garden center pos can help optimize profitability and streamline operations.
READ OUR BROCHURE
Take a look at everything Rapid's Garden Center POS has to offer in our latest product brochure. Custom Features built specifically for Retail & Wholesale Nurseries, Landscape, Hardscape, Greenhouses & more!
Comprehensive Garden Center Point-of-Sale Hardware
Our exceptional point of sale system is here to cater to your hardware requirements, whether you're aiming to make a bold statement or simply seeking reliable printing capabilities. We offer a comprehensive range of solutions that perfectly align with your needs. From eye-catching and impactful hardware options to efficient and precise printing capabilities, our point of sale system has got you covered, ensuring a seamless and impressive experience.
Get everything you need to run your garden center software — including cash drawers, barcode scanners, screens and receipt printers. We work closely with NCR, the world's largest cash register manufacturer. As a result, we ensure you get a time-tested small business POS system with a robust warranty.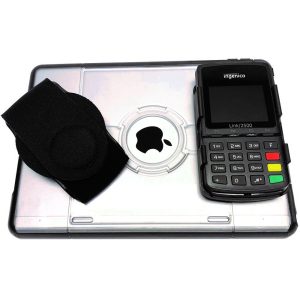 NCR Mobile tools let you take your point of sale system everywhere you go! Additionally, manage inventory throughout your facilities and service your customers with mobile payments wherever they may need you.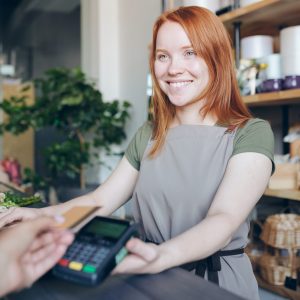 Make credit card payments a breeze. Let customers pay however they want with credit card machines that work with Chip & Pin (EMV), Apple Pay, Google Wallet, and more. Credit card payment processing is secure through a PCI DSS and CISP compliant payment gateway.
Garden Center POS Systems Require Unique Features. Our Software Provides Tools to help Retail and Wholesale Plant Nurseries Thrive:
Book your FREE demo today to discover the industry leading garden center POS system and take your business to the next level as a result.
Unleash the Power of Advanced Connections in our Garden Center Software
Our suite of advanced tools and integrations go beyond the standard features of a point of sale system. Specifically, streamline tasks like email marketing, customer management, online sales, and shipping and logistics. Equally, the best garden center pos systems let you take advantage of integrations with advanced features that concurrently enhance your nursery management operations and increase your profitability. Our garden center POS system provides you with a long-term business solution, coupled with the latest technology with tailored green industry features customized to your business needs. Trust Rapid Garden POS to provide you with the tools you need to stay ahead of the competition, as well as grow your business.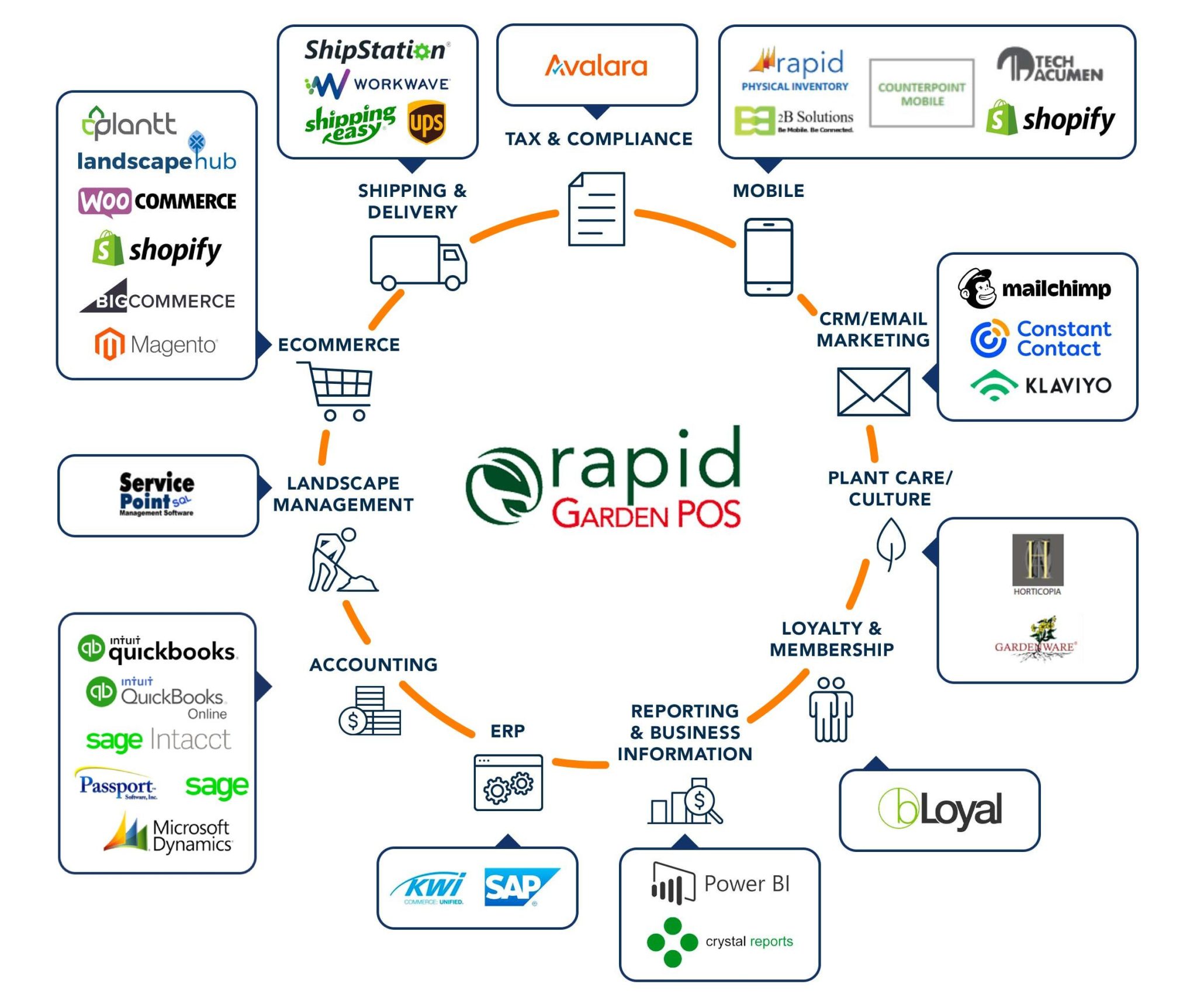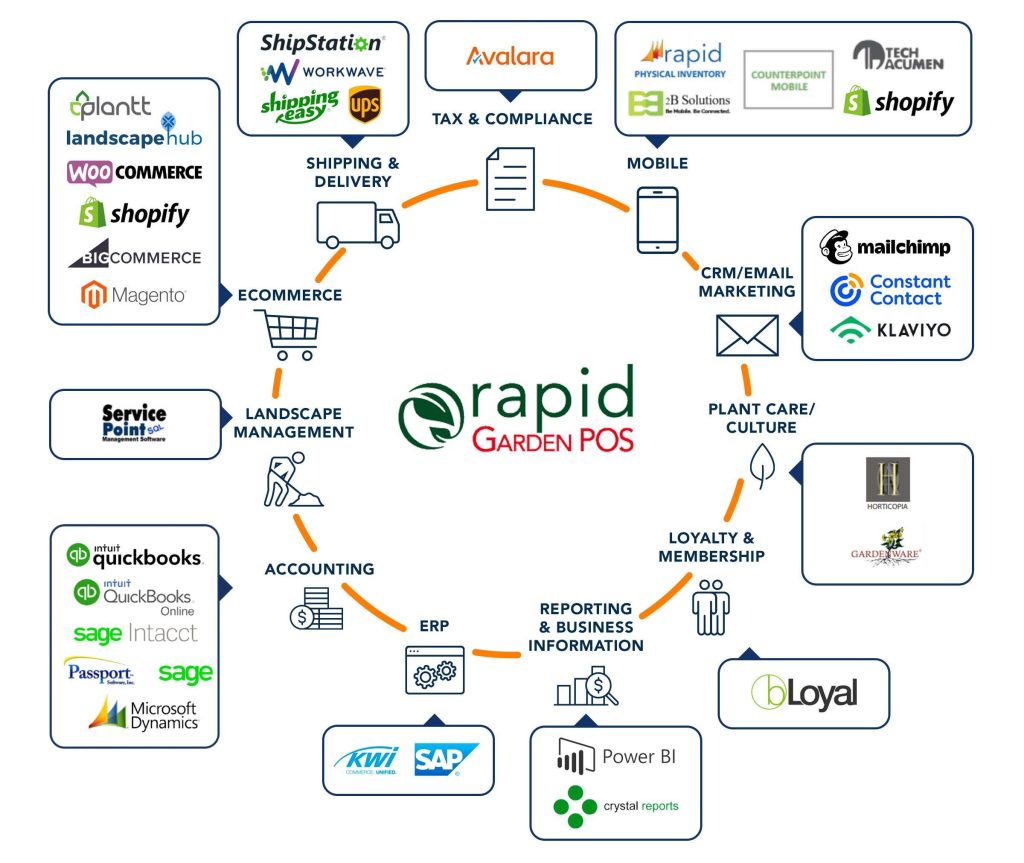 Your Success is Our Priority
Rapid Garden POS offers exceptional implementation and customer support. We are here to guide you every step of the way, ensuring a smooth transition to our custom-built pos systems and offering ongoing assistance whenever you need it. With a dedicated support team, we are committed to providing timely assistance, resolving issues promptly, and answering any questions you may have. Rapid Garden POS is the ultimate solution for garden centers seeking a reliable, tailored, and future-proof system.
Interested in Learning More?
Fill out the form below to be connected to a Product Specialist. Learn why Rapid is reviewed as the leading solution among garden center POS systems. During our discussion, our team of experts will answer any questions you have and will schedule a time to walk you through our best-in-class POS system.
"*" indicates required fields
What our Friends Say About Us...
Roger's Gardens (Corona del Mar, CA)

"We have successfully been working with Rapid Garden POS for more than a decade. The team's service to us, and to their other garden center customers across the country, showcases how much they really understand garden centers and the peculiarities and attributes of our industry. Rapid Garden POS offers features and functionality that are specifically tailored to our needs from managing inventory and customer management and more. The Rapid team continues to develop solutions to support us. "

Chalet Nursery (Wilmette, IL)

"Throughout our more than 4-year relationship, the Rapid team has always been very responsive to our needs. We frequently are customizing the Rapid Garden POS solution and the Rapid folks have been very willing to assist us. Their commitment to customer service is outstanding and we know if we call them with a problem or issue that we will get quick follow-up and resolution."

Swansons Nursery (Seattle, WA)

"We are very impressed with Rapid Garden POS! There aren't a lot (if any) out-of-the-box solutions for the unique challenges of the green industry—and that's okay because the team at Rapid is the right mix of tech-savvy, business-savvy, and collaborative can-do spirits needed to help craft the customized solutions we need."

Allisonville Nursery (Fishers, IN)

"Rapid Garden POS is incredibly fast to respond to us when we need help. Not once have I heard them say "no, we can't do that." We always hear "let's find a way to make that happen!" and then they make it happen! The team is wonderful to work with, and we feel supported by people who understand our business and are actively working with us to help us get the most out of our system."